HAV100-6Ch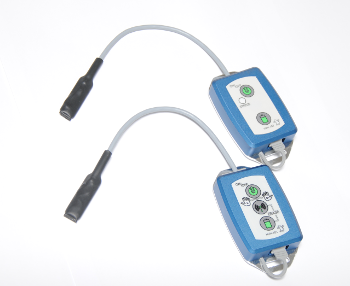 HealthVib® HAV100 system measures and analyses HAV as required by ISO-5349 and EU-directive 2002/44/EG.
Performing measuring by HealthVib HAV is easy to learn and carry out. The unit does not require cables or any special configurations. HealthVib HAV can be used in field conditions. HealthVib HAV100-6Ch is an instrument system for measuring hand arm vibrations on both hands at the same time in three directions, x,yx,z, calculated as vector sum according to the EU directive. This functionality reveals the vibration origin and thus makes it easier to choose the corrected preventive action.
HealthVib HAV100-6Ch consists of a pair of measurement gloves, an Active unit (the basic unit and perform the main analysis), Passive unit and Vibindicator HAV.
ISO 5349 requires measurement and report for both hands and by using a second HealthVib HAV; Passive unit this is easily fullfiled. HealthVib HAV Passive unit has a wireless connection to the basic HealthVib HAV, Active unit.
Vibration data is stored and analyzed during the measurement. THe HealthVib HAV100 can be wireless connected to a Vibindicator™ HAV for simoultanouse presentation of the actual and accumulated vibration exposure.
The Active and Passive uunits can be mounted to the machine (with or without aincluded adaptors) or preferable using the special adapted glove which is in accordance to ISO 5349.